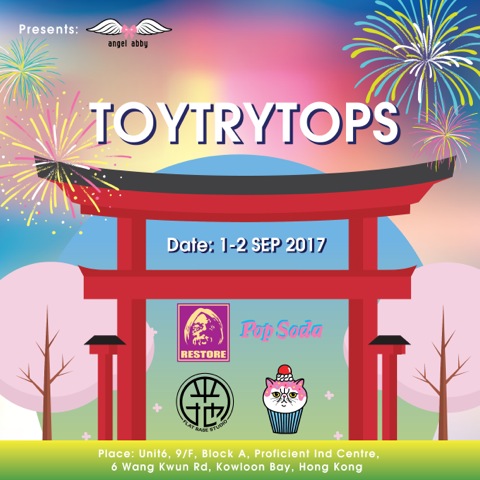 2017年9月1日~2日、香港のエンジェルアビーさんにて『TOYTRYTOPS』を開催いたします!
『TOYTRYTOPS』とはRESTORE, PopSoda, refreshment toy, flatbase studioの4つのメーカーによる
ドリームチームとなっております!!
今回、このTOYTRYTOPSのメンバーで展示販売会を開催することとなりました!
場所 : angel abby SPACE
日時 : 9/1 19:00-22:00
          9/2 15:00-19:00
夢の香港初上陸となりますっ!
そして香港と言えば!あの!おかた!!果たして実現するのかっ!?
香港の皆様、9月にお会いしましょうっっ!!
"TOYTRYTOPS" will be held at Angel Abby at Hong Kong from 1st to 2nd September, 2017!
"TOYTRYTOPS" is 4 manufacturers, RESTORE, PopSoda, refreshment toy, flatbase studio
It is a dream team! !
This time, we will hold an exhibition and selling with TOYTRYTOPS member!
angel abby SPACE
Sep 1 : 19:00- 22:00
       2 : 15:00-19:00
It will be the first Hong Kong landing! 
Let's meet in Hong Kong, September! !